bediening | yorcom
Cherry Stream zwart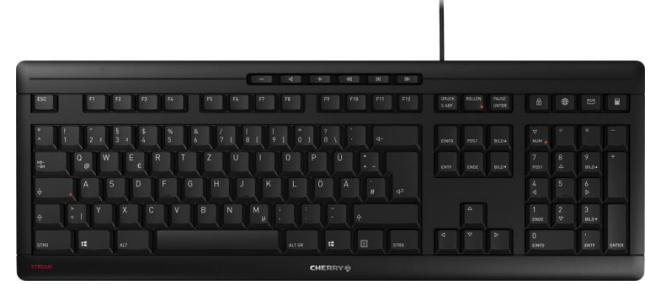 CHERRY STREAM - the classic
CHERRY stands for the highest standards of reliability, durability and an incomparable typing feel. The CHERRY STREAM KEYBOARD improves what millions of satisfied users already appreciated in its predecessor. The classic has been d for a new age.

Especially in the office environment, input devices are our daily companions and are in use for hours. The STREAM KEYBOARD sets new standards in this area and has the potential to become the most popular keyboard.

Design meets elegance
The mixture of conventional design, a pinch of elegance and simple purism make the keyboard the ideal companion in the office and at home that can suit many tastes. Thanks to the integrated metal plate, the STREAM KEYBOARD will impress users with its ideal torsional stiffness and stability despite its slim design. The two feet and eight rubber pads on the underside also ensure a firm stand when folded in and out.

Features and Feeling
CHERRY scissor technology has always been associated with an incomparable typing feel and uncompromising precision. During development, special attention was paid to noise created by typing. The noise development has been further reduced in comparison with the very quiet predecessor model. This makes the keyboard the first choice for offices with many workplaces or if you like to type quietly.

Our careful ion of materials ensures that the letters stand out clearly from the keys and that you can work in a fatigue-free manner.

The status LEDs for CAPS LOCK, NUM and SCROLL LOCK integrated directly into the key are a unique feature that is otherwise only found in much higher price ranges. The red status LEDs show you at first glance whether the caps lock key has been pressed.

Ten additional practical keys make work in Microsoft Office and multimedia applications easier. It includes six commonly used keys for controlling your multimedia player. In addition, the browser, email, and calculator functions give you easy access to frequently used commands at all times. A lock button allows users to log out at the push of a button before leaving their workstation. This is particularly invaluable in the office environment.

Despite these additional keys, no separate drivers are required. The STREAM KEYBOARD is a plug&play device.

Top Quality
In working environments, in particular, compliance with guidelines, quality and environmental goals is obligatory. For CHERRY, these goals are also part of its corporate philosophy. This is why we have put our efforts into our successful bid to gain the "Blauer Engel" award. In addition, the GS "Safety Tested" seal certifies that the product complies with all relevant European directives and regulations relating to health protection.

Are you looking for a reliable companion who will not let you down in your daily work or your private life? The CHERRY STREAM KEYBOARD is the perfect choice.
Andere producten uit deze categorie
Yorcom Computers B.V.
Yorcom.nl
is een zeer professionele en toonaangevende computerspecialist. Vanuit de eigen vestiging met ruime showroom, magazijn, werkplaats en technische dienst wordt met volle overtuiging gewerkt aan optimale klanttevredenheid. Een groot assortiment A-merken, deskundigheid, technische support, snelle service en zelfs een eigen PC productlijn vormen de basis voor een blijvende relatie met vele bedrijven en particulieren die op Yorcom.nl rekenen als betrouwbare partner en kwaliteitsleverancier. Als een van de weinige computerbedrijven in Nederland levert Yorcom.nl zelf samengestelde computers direct uit eigen voorraad. Overtuigd van eigen kwaliteit geldt voor deze eigen productlijn 8 dagen DOA garantie. Een defecte Yorcom PC wordt dan ook direct omgeruild zonder vragen. Mocht een PC in een later stadium defect raken dan vindt herstel plaats binnen 1 tot 3 werkdagen en tijdens de reparatietijd krijgt men geheel gratis een laptop in bruikleen. Ofwel service en kwaliteit staan op nummer 1!
Naast Computers en laptops levert Yorcom.nl ook de meest uiteenlopende producten en oplossingen. Van een ouderwets koppelstukje tot het nieuwste product dat morgen op de markt komt. Ook voor het huren van Beamers (+ projectiescherm) en laptops kan men bij Yorcom.nl terecht tegen de laagste prijs in Nederland. Een scherpe prijs, snelle levering, geen gezeur bij garantie en ook bij schaarste geen "nee" te hoeven te verkopen.
Voordelen Yorcom.nl:
• Al meer dan 11 jaar actief op de Nederlandse en Belgische markt;
• Fysieke winkel/showroom met deskundig personeel;
• Eigen technische dienst;
• Ruim assortiment A-merken;
• Lage verzendkosten van slechts €4,95 incl. BTW;
• Support en advies tegen lokaaltarief en direct een medewerker aan de telefoon;
• Realtime prijzen en voorraadstatus op de website.;
• Voor 16.30 uur besteld is volgende werkdag al in huis;
• Levering uit eigen magazijn;
• Geen annulerings- en/of reserveringskosten;
• Verhuur van laptops en beamers;
• Bij een eventueel defect product in de meeste gevallen direct een omruiling;
• Bij PC & Laptop reparaties gratis een laptop in bruikleen tijdens de reparatietijd;
• Diverse betaalmogelijkheden: iDeal, vooruitbetaling, creditcard, of PIN;
• Voor zakelijke klanten is uiteraard ook levering op rekening mogelijk.
Heb jij wel eens zaken gedaan met
Yorcom Computers B.V.
(yorcom)?
Deel jouw ervaringen met anderen!